Giveacar is excited to announce that our new feature charity is The Stroke Association.

The Stroke Association
has been a registered charity with us since the very beginning, so we felt that it was about time to raise awareness of the amazing work
The Stroke Association
do by making them one of our feature charities.
Every year there are approximately
152,000
strokes in the UK. That's one stroke every three and a half minutes. Most people affected are over 65, but anyone can have a stroke, including children and even babies. Due to improvements to stroke care over the years, statistics now show you are twice more likely to survive a stroke than 20 years ago. However, the reality remains that stroke is the UK's third biggest killer. These figures are quite shocking, however,
The Stroke Association
believe in life after stroke and that together we can conquer stroke.
By working with people who share this commitment; stroke survivors and their families, researchers and medics, and all their supporters – including
Giveacar!
-
The Stroke Association
can continue their work in trying to conquer stroke.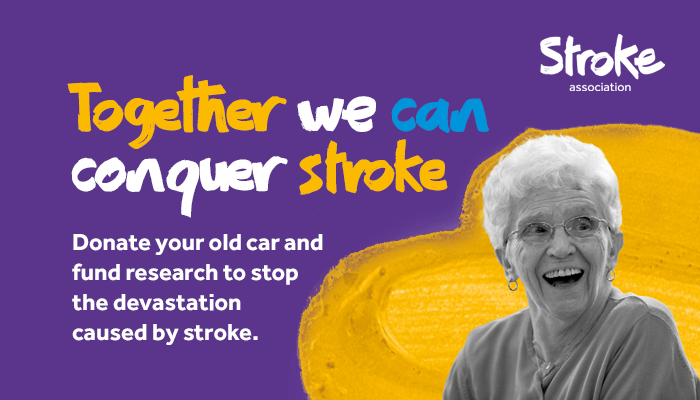 As the leading stroke charity in the UK,
The Stroke Association
is here to change the world for people affected by stroke, and we at
Giveacar
are here to fully support
The Stroke Association.
You can donate your car by simply clicking on this link here or calling us on 0207 736 4242 and quoting The Stroke Association as your chosen charity.

        Array
(
    [links] => Array
        (
            [#theme] => links__node
            [#pre_render] => Array
                (
                    [0] => drupal_pre_render_links
                )

            [#attributes] => Array
                (
                    [class] => Array
                        (
                            [0] => links
                            [1] => inline
                        )

                )

            [node] => Array
                (
                    [#theme] => links__node__node
                    [#links] => Array
                        (
                        )

                    [#attributes] => Array
                        (
                            [class] => Array
                                (
                                    [0] => links
                                    [1] => inline
                                )

                        )

                )

            [blog] => Array
                (
                    [#theme] => links__node__blog
                    [#links] => Array
                        (
                            [blog_usernames_blog] => Array
                                (
                                    [title] => admin's blog
                                    [href] => blog/1
                                    [attributes] => Array
                                        (
                                            [title] => Read admin's latest blog entries.
                                        )

                                )

                        )

                    [#attributes] => Array
                        (
                            [class] => Array
                                (
                                    [0] => links
                                    [1] => inline
                                )

                        )

                )

        )

    [body] => Array
        (
            [#theme] => field
            [#weight] => 0
            [#title] => Body
            [#access] => 1
            [#label_display] => hidden
            [#view_mode] => full
            [#language] => und
            [#field_name] => body
            [#field_type] => text_with_summary
            [#field_translatable] => 1
            [#entity_type] => node
            [#bundle] => blog
            [#object] => stdClass Object
                (
                    [vid] => 4551
                    [uid] => 1
                    [title] => The Stroke Association – Our New Featured Charity! 
                    [log] => 
                    [status] => 1
                    [comment] => 0
                    [promote] => 1
                    [sticky] => 0
                    [nid] => 4551
                    [type] => blog
                    [language] => und
                    [created] => 1446465047
                    [changed] => 1446482570
                    [tnid] => 0
                    [translate] => 0
                    [revision_timestamp] => 1446482570
                    [revision_uid] => 1
                    [body] => Array
                        (
                            [und] => Array
                                (
                                    [0] => Array
                                        (
                                            [value] => 

Giveacar is excited to announce that our new feature charity is The Stroke Association.









The Stroke Association has been a registered charity with us since the very beginning, so we felt that it was about time to raise awareness of the amazing work The Stroke Association do by making them one of our feature charities. 







Every year there are approximately 152,000 strokes in the UK. That's one stroke every three and a half minutes. Most people affected are over 65, but anyone can have a stroke, including children and even babies. Due to improvements to stroke care over the years, statistics now show you are twice more likely to survive a stroke than 20 years ago. However, the reality remains that stroke is the UK's third biggest killer. These figures are quite shocking, however, The Stroke Association believe in life after stroke and that together we can conquer stroke.


By working with people who share this commitment; stroke survivors and their families, researchers and medics, and all their supporters – including Giveacar! - The Stroke Association can continue their work in trying to conquer stroke. 







As the leading stroke charity in the UK, The Stroke Association is here to change the world for people affected by stroke, and we at Giveacar are here to fully support The Stroke Association. 




You can donate your car by simply clicking on this link here or calling us on 0207 736 4242 and quoting The Stroke Association as your chosen charity. 



                                            [summary] => 
                                            [format] => full_html
                                            [safe_value] => 

Giveacar is excited to announce that our new feature charity is The Stroke Association.








The Stroke Association has been a registered charity with us since the very beginning, so we felt that it was about time to raise awareness of the amazing work The Stroke Association do by making them one of our feature charities. 








Every year there are approximately 152,000 strokes in the UK. That's one stroke every three and a half minutes. Most people affected are over 65, but anyone can have a stroke, including children and even babies. Due to improvements to stroke care over the years, statistics now show you are twice more likely to survive a stroke than 20 years ago. However, the reality remains that stroke is the UK's third biggest killer. These figures are quite shocking, however, The Stroke Association believe in life after stroke and that together we can conquer stroke.





By working with people who share this commitment; stroke survivors and their families, researchers and medics, and all their supporters – including Giveacar! - The Stroke Association can continue their work in trying to conquer stroke. 








As the leading stroke charity in the UK, The Stroke Association is here to change the world for people affected by stroke, and we at Giveacar are here to fully support The Stroke Association. 





You can donate your car by simply clicking on this link here or calling us on 0207 736 4242 and quoting The Stroke Association as your chosen charity. 



                                            [safe_summary] => 
                                        )

                                )

                        )

                    [field_tag] => Array
                        (
                        )

                    [rdf_mapping] => Array
                        (
                            [rdftype] => Array
                                (
                                    [0] => sioc:Post
                                    [1] => sioct:BlogPost
                                )

                            [title] => Array
                                (
                                    [predicates] => Array
                                        (
                                            [0] => dc:title
                                        )

                                )

                            [created] => Array
                                (
                                    [predicates] => Array
                                        (
                                            [0] => dc:date
                                            [1] => dc:created
                                        )

                                    [datatype] => xsd:dateTime
                                    [callback] => date_iso8601
                                )

                            [changed] => Array
                                (
                                    [predicates] => Array
                                        (
                                            [0] => dc:modified
                                        )

                                    [datatype] => xsd:dateTime
                                    [callback] => date_iso8601
                                )

                            [body] => Array
                                (
                                    [predicates] => Array
                                        (
                                            [0] => content:encoded
                                        )

                                )

                            [uid] => Array
                                (
                                    [predicates] => Array
                                        (
                                            [0] => sioc:has_creator
                                        )

                                    [type] => rel
                                )

                            [name] => Array
                                (
                                    [predicates] => Array
                                        (
                                            [0] => foaf:name
                                        )

                                )

                            [comment_count] => Array
                                (
                                    [predicates] => Array
                                        (
                                            [0] => sioc:num_replies
                                        )

                                    [datatype] => xsd:integer
                                )

                            [last_activity] => Array
                                (
                                    [predicates] => Array
                                        (
                                            [0] => sioc:last_activity_date
                                        )

                                    [datatype] => xsd:dateTime
                                    [callback] => date_iso8601
                                )

                        )

                    [path] => Array
                        (
                            [pathauto] => 1
                        )

                    [name] => admin
                    [picture] => 0
                    [data] => a:2:{s:7:"contact";i:1;s:7:"overlay";i:1;}
                    [entity_view_prepared] => 1
                )

            [#items] => Array
                (
                    [0] => Array
                        (
                            [value] => 

Giveacar is excited to announce that our new feature charity is The Stroke Association.









The Stroke Association has been a registered charity with us since the very beginning, so we felt that it was about time to raise awareness of the amazing work The Stroke Association do by making them one of our feature charities. 







Every year there are approximately 152,000 strokes in the UK. That's one stroke every three and a half minutes. Most people affected are over 65, but anyone can have a stroke, including children and even babies. Due to improvements to stroke care over the years, statistics now show you are twice more likely to survive a stroke than 20 years ago. However, the reality remains that stroke is the UK's third biggest killer. These figures are quite shocking, however, The Stroke Association believe in life after stroke and that together we can conquer stroke.


By working with people who share this commitment; stroke survivors and their families, researchers and medics, and all their supporters – including Giveacar! - The Stroke Association can continue their work in trying to conquer stroke. 







As the leading stroke charity in the UK, The Stroke Association is here to change the world for people affected by stroke, and we at Giveacar are here to fully support The Stroke Association. 




You can donate your car by simply clicking on this link here or calling us on 0207 736 4242 and quoting The Stroke Association as your chosen charity. 



                            [summary] => 
                            [format] => full_html
                            [safe_value] => 

Giveacar is excited to announce that our new feature charity is The Stroke Association.








The Stroke Association has been a registered charity with us since the very beginning, so we felt that it was about time to raise awareness of the amazing work The Stroke Association do by making them one of our feature charities. 








Every year there are approximately 152,000 strokes in the UK. That's one stroke every three and a half minutes. Most people affected are over 65, but anyone can have a stroke, including children and even babies. Due to improvements to stroke care over the years, statistics now show you are twice more likely to survive a stroke than 20 years ago. However, the reality remains that stroke is the UK's third biggest killer. These figures are quite shocking, however, The Stroke Association believe in life after stroke and that together we can conquer stroke.





By working with people who share this commitment; stroke survivors and their families, researchers and medics, and all their supporters – including Giveacar! - The Stroke Association can continue their work in trying to conquer stroke. 








As the leading stroke charity in the UK, The Stroke Association is here to change the world for people affected by stroke, and we at Giveacar are here to fully support The Stroke Association. 





You can donate your car by simply clicking on this link here or calling us on 0207 736 4242 and quoting The Stroke Association as your chosen charity. 



                            [safe_summary] => 
                        )

                )

            [#formatter] => text_default
            [0] => Array
                (
                    [#markup] => 

Giveacar is excited to announce that our new feature charity is The Stroke Association.








The Stroke Association has been a registered charity with us since the very beginning, so we felt that it was about time to raise awareness of the amazing work The Stroke Association do by making them one of our feature charities. 








Every year there are approximately 152,000 strokes in the UK. That's one stroke every three and a half minutes. Most people affected are over 65, but anyone can have a stroke, including children and even babies. Due to improvements to stroke care over the years, statistics now show you are twice more likely to survive a stroke than 20 years ago. However, the reality remains that stroke is the UK's third biggest killer. These figures are quite shocking, however, The Stroke Association believe in life after stroke and that together we can conquer stroke.





By working with people who share this commitment; stroke survivors and their families, researchers and medics, and all their supporters – including Giveacar! - The Stroke Association can continue their work in trying to conquer stroke. 








As the leading stroke charity in the UK, The Stroke Association is here to change the world for people affected by stroke, and we at Giveacar are here to fully support The Stroke Association. 





You can donate your car by simply clicking on this link here or calling us on 0207 736 4242 and quoting The Stroke Association as your chosen charity. 



                )

        )

)